Rapids Affiliates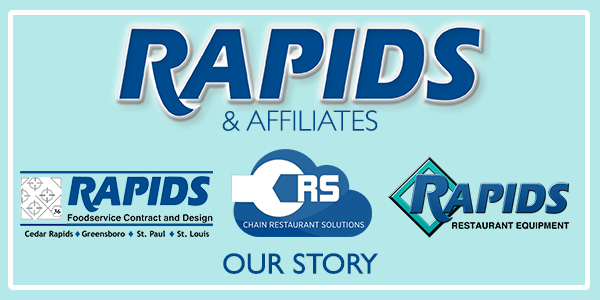 In 1936, Rapids' founder Harry Ribble left Pabst Brewery to develop and patent the world's first direct draw beer dispenser, creating Rapids, Inc. in the process. While Rapids found great success in selling kegerators, soon our customers began to communicate new needs. Rapids responded. In the last eighty years, this company has expanded into multiple affiliates, all working together under the Rapids brand to provide start-to-finish comprehensive assistance to the foodservice industry - from design services to smallwares and equipment fulfillment to facilities management and more.
As Rapids grew, so did our customers. They weren't just dispensing beer anymore - they wanted to serve food and create a space where friends and families could come to enjoy a hot meal and drinks. To service the needs of these growing customers, Rapids began to gradually move from just selling refrigeraton, beer dispensing and bar supplies to front-of-the-house and kitchen smallwares and cooking equipment. It started off with a catalog that leveraged our knowledge and connections to offer deals on foodservice supplies, and now includes a comprehensive webstore where we showcase a product selection of close to 10,000 items!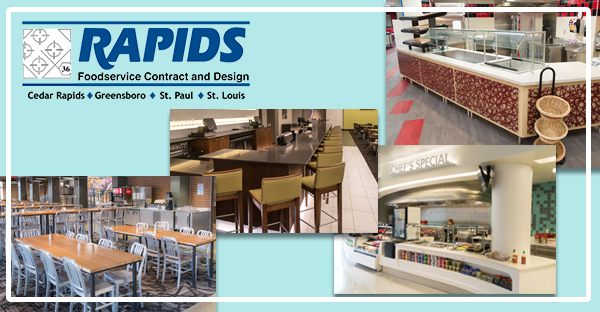 It didn't take long for a new need to surface - kitchen and dining area design. To address this demand, in 2002 Rapids expanded from a strictly retail operation to incorporate contract and design. Purchasing Advanced Contract & Design in Minneapolis to bring on trained designers, Rapids moved to offer full-service design options to a variety of foodservice operations:
Restaurants
Bars and breweries
Nursing homes
Prisons
Hospitals
College and universities
Food trucks
Hotels
Employee cafeterias and more.

From new construction to remodels, the Rapids team has the project specialists, LEED-certified designers, and contract and design specialists to effectively coordinate projects and make customer dreams a reality.

Our latest addition to the Rapids affiliates was formed with the direct input of a customer - the owner of 20 Panera Bread Bakery-Cafes. He shared his struggles with staying on top of the repair and maintenance needs of the various equipment spread through his multi-unit operation. Thus, in 2004 Chain Restaurant Solutions (CRS) was born. Through tagging, tracking, and monitoring equipment and other facilities elements, CRS helps operators manage the hassle of owning several units. To make the process as efficient as possible, CRS even brought in coders to develop apps and other new technology that quickly communicates the necessary information to all the pertinent points-of-contact. This allows our customers to focus on what is most important to them: their business.