Food for Thought - Rapids' Blog
Two Types of Long Draw Beer Systems
Long Draw Draft Beer Systems

Long Draw beer systems have several advantages for busy establishments
All of the kegs are kept in one large walk-in cooler.
Kegs can be more easily hooked up in series to avoid running out at peak times.

Less room is required in the service area for beer since the bulky kegs are elsewhere.


Multiple service points can be supplied from one central keg cooling location.


Two Types of Long Draw Draft Beer Systems


Type 1: Chilled Glycol Long Draw Draft Beer System
Uses a cooling unit and a pump to move chilled glycol through lines that are bundled with the beer lines.
Capable of longer run lengths and routes with many curves.

More expensive than an air cooled system, but the benefit of ice cold beer at the faucet (no matter how far away) usually out weighs the cost factor.

Instead of a double shaft assembly, glycol systems use one flexible shaft (called a trunk line) that bundles the beer lines closely in contact with the cold glycol lines. Shown as "C" at the right.

Rather than using the cold air inside the cooler, glycol is chilled in its own refrigeration and pumping unit (A), then merged with the beer lines inside the cooler.


Before the glycol returns down the lines to be re-chilled, it passes through cooling blocks attached to each faucet. This makes sure that the beer is chilled all the way to the glass.


Type 2: Air Cooled Long Draw Draft Beer System
Uses air shafts and blowers like the 60 Cubic Feet Per Minute blower to 140 CFM Forced Air blower to move chilled air from a walk in cooler alongside the beer lines from the walk-in cooler to the faucet.
Less expensive than a chilled glycol system.

Works best on relatively straight shaft runs and only for short, limited distances less than 25 feet.

Air cooled draft beer system systems consist of an inner shaft that houses the beer lines nested inside an outer insulated shaft for the air return. You can find all the parts you need for an air cooled Long Draw Beer System at wholesale prices at Rapids.

Cold cooler air is blown from a walk in beer cooler through the inner shaft, cooling the beer lines all the way to the tower. The air then loops and returns to the walk in cooler through the outer shaft.


Walk ins coolers that contain menu food products should not be used as the walk in door is opened too often. The Walk In needs to be exclusively for Beer Kegs.


Long Draw Beer System Design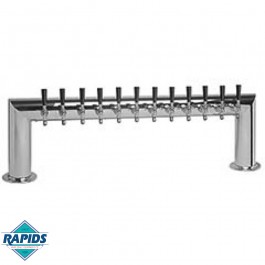 Rapids designs long draw systems at the customer's request. There are many factors that must be accounted for, and the complexity can be overwhelming to a novice. Rapids has Certified Draft Technicians on staff to assist with these projects:
Please contact Ben at the Marion office for assistance in designing or setting up any long draw system. 800-472-7431

Learning about beer systems is fairly straight forward even with all of the choices that can be made. Don't be put off by the wide variety of parts and pieces. If you have any questions – just ask!
Rapids Wholesale is well known as a source for beer dispensing equipment and advice. We are here to help at any step along the way!