Food for Thought - Rapids' Blog
​Rapids Featured Business - Thumbprint Soap
Thumbprint Soap is an artisanal soap company located in Cedar Rapids, IA. Thumbprint soaps are formulated for sensitive skin, free of the harsh chemicals you find in many commercial soaps, and made with only high quality ingredients.
Katie Hamre, owner of Thumbprint Soap, combines art and science with the constant testing of small batches to create craft soap that pampers your skin. Not only is the soap made with ingredients that you feel good putting on your skin, it also simultaneously treats your visual and olfactory senses using swirls of beautiful color and heavenly scents. One thing is for sure: once you switch to these luxurious artisanal soaps you will never return to commercial bars.
Modern handcrafted soap has nothing in common with the homemade lye soaps of our great grandparents. It's true that the recipes call for using lye as a staple ingredient alongside oils in the manufacturing process, but the final soap product has no lye in it. This is due to saponification, which means that the caustic lye has reacted with the oils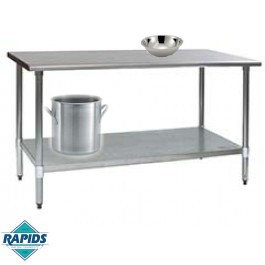 It is this use of lye in craft soap production that brought Thumbprint Soap's owner Katie in to Rapids Wholesale as a customer. Stainless steel is the recommended material for a soap maker's pot and other work surfaces. The caustic properties of lye do not mix well with materials such as aluminum, galvanized steel, or teflon pots. Stainless steel stock pot s and bowls , on the other hand, will withstand the chemically-created high heat of saponification. Katie also prefers working on stainless steel work tables , and told us work surfaces other than stainless steel can cause artisanal soap to yellow as it cures, a process that takes up to 6 weeks.
In the last two years, Katie has expanded Thumbprint Soap by adding more craft skincare products to her line. She has also started selling beer soap through two different craft beer breweries. Her recipe involves the brewery's craft beer, and each brewery gets their own private label for the soap.
Beer soap has proven to be incredibly popular, possibly because the craft beer industry is growing so rapidly, but most likely due to the amazing qualities of beer soap. Beer soap has a high lather thanks to the natural sugars occurring in beer, but it also comes with additional benefits. Hops contain amino acids that are said to sooth irritated and inflamed skin, and brewer's yeast acts as a natural form of an antibacterial agent. Beer is also high in vitamin B, which is beneficial to your skin. You can purchase beer soap from Thumbprint Soap on their website, or at either Lionbridge Brewery in Cedar Rapids or Fox Brewing in Des Moines.
To better serve customers, Thumbprint Soaps has expanded their skin care line to include lotions and balms , scrubs , and facial products (including shaving soaps and even beard oil ) Following the tradition started with the original soaps, these products are all made with safe, high quality ingredients that you can feel comfortable using on your skin.
Thumbprint has even formulated a soap for your dog! Wag Wash Dog Shampoo is made from handmade oat milk and Neem oil, a healthy combination for a dog's skin. In fact, Thumbprint's concern for helping animals goes beyond formulating a safe dog wash: they donate 5% of every sale to local animal shelters.
Thumbprint Soap's generosity does not stop with animal shelters. As we said above, creating artisanal craft soap requires science, creativity, and plenty of testing. Katie blogs on the Thumbprint website about her journey, her trial and error testing, what works, what doesn't work. She has shared soap-making tutorials, recipes, resources, and even provides advice on how to connect with local breweries and market private label beer soap through the breweries. You can purchase soap from Thumbprint's online store , or you can learn how to make your own soap or even create your own soap business. Katie told us the craft soap-making community is a "sharing community." Certainly Thumbprint Soaps is evidence and testimonial to that.
This document has been composed with the free online HTML edior. Access it here and use it every time for document editing.