Food for Thought - Rapids' Blog
Choosing the Right Hot Dog Cooking Equipment for Your Needs

Profit in Hot Dogs
Overview of Hot Dog Business
A hot dog vendor in the right location, with the right equipment, can earn six figures annually. That's because the startup costs are easily within reach, and the markup on hot dogs is good. Adding hotdogs to your concession, food truck menu, or convenience store can generate extra revenue with good profit margins thanks to little labor being involved. Hot dogs are a food product that depending on your hot dog cooking equipment setup can either be self-serve for your customers or minimal effort to serve behind the counter.
A traditional hot dog with bun and condiments costs a vendor between 50 cents and and $1.25 to prepare, If you sell that hot dog for $3.75, you've got a markup of roughly 300 percent. Purchase as much as you can wholesale, and you can drive your profit margins
Your choice of hot dog cooking equipment is probably going to be determined by space restrictions and volume. Will the product be self-serve, or will a cook be putting them together. In some states, self-serve is not an option. In that case, you still might want front facing equipment, but access from the rear of the cooker. Will you want to offer more than one type of frank? Some cookers are better at accommodating this feature than others. The one feature all modern hot dog cookers have in common is the ability to cook the hot dog to safe temperature and hold it at a safe temperature for serving.
Hot Dog Cooking Equipment
A Self Serve Hot Dog Merchandiser or hot dog broiler is an all in one hot dog cooker and display with a bun warming drawer. Usually a Rotisserie style wheel that thoroughly cooks your hot dogs to perfection and then holds them at a safe heat behind a see thru insulated glass door. The aroma of cooking hot dogs, along with viewing them behind the glass invites the customer to purchase a hot dog. Because counter space is a premium, many Hot Dog Merchandisers are designed with space saving vertical design so as to need very little width on your counter.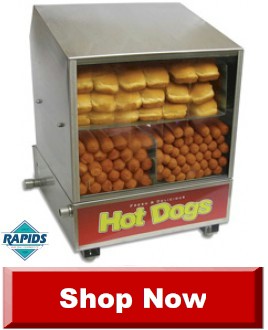 Another great option for self serve hot dogs where space is still at a premium, but volume is higher, is a Hot Dog Steamer. Hot dogs are cooked and held at the perfect temperature for safe serving. Steaming is one of the most cost-effective ways of cooking hot dogs. An efficient commercial hot dog steamer can actually cook more than a hundred hot dogs in a span of half an hour, or even less. There is no compromise in the quality of the hot dogs for the customer, because the steamed hot dogs remain juicy and delicious. A hot dog steamer can hold more hot dogs, and like the rotisserie style hot dog cooker, the Hot Dog Steamer also has room for keep hot dog buns warm. Some hot dog steamers even have divided trays for your product, so that you can serve two different types of hot dogs at one time. Most run on 120 volt plug in. Trays are removable for easy cleaning.
An excellent choice for many hot dog vendors or stadium concessions is the Hot Dog Roller Grills. The low profile of these machines guarantees good visibility for presentation of your hot dog products. The rollers evenly grill the hot dogs which adds great taste and also great aroma which pulls customers into your stand. Hot Dog Roller Grills with slanted roller design provide an even better presentation of your dog products increasing sales even more. Accessories to these machines include bun warmers and sneeze Guards which allows for use of these as self serve units as well. A Hot Dog Roller can cook hot dogs in under 10 minutes and hold up to 75 hot dogs.
Location is important. In fact some of the best hot dog stand locations in large cities cost the hot dog vendor up to $300,000.00 a year in rent. High volume foot traffic is the best traffic as the tantalizing smells is usually what brings customers to your door. A tantalizing display, combined with a variety of toppings and condiments, also attractively displayed converts your traffic to sales.
Be Creative With Your Hot Dog Business
So while we told you location is important, now we are going to tell you that with creative marketing, and a great product, you can have your Hot Dog business anywhere. A retailer in Springfield Missouri has managed to prove that with hot dogs, it is not always about location. Butcher + Baker is a Springfield business that retails their gourmet food out of the back door of a building. Finding Butcher + Baker for the first time is actually half the fun. Skillfully using social media and word of mouth for marketing and merchandising, Butcher Plus Baker promote gourmet franks as a menu item via social networks and they are very good at making it hard to resist those franks!
Hand made sausages from the "Butcher" served on fresh artisan buns from the "baker" with toppings inspired by international flavors. THE HANS: a gourmet rich German bratwurst, made with cream, eggs, nutmeg and white pepper, topped with sauerkraut and mustard on a challah bun.THE BIG TEX: A spicy smoked Texas County Hot Link, topped with our best-you've-ever-eaten pulled pork, and doused with spicy barbecue sauce on a challah bun. THE EDO TORPEDO: An Asian-inspired pork sausage seasoned with mirin, soy and shichimi togarashi, topped with tangy kimchi on a challah bun. These retail for $7.00 to $9.75 and bring customers in the door and, once you are in the door, the display cases filled with amazing custom meats and fresh baked artisan baked goods make it almost impossible to not purchase something additional from the cases for a snack and dinner later.
Hot Dog Business Summary
The point is your hot dog business can be anything you want it to be. Creativity is only going to enhance your operation! People like hot dogs. If you do not have the location you would like, use social media to bring the customers to you! Americans spend almost $2 billion a year on franks, according to the National Hot Dog and Sausage Council. Whether you are looking for a new business opportunity, or looking to generate additional income from an existing business, there is profit in hot dogs!