Food for Thought - Rapids' Blog
A "Low Boy" By Any Other Name!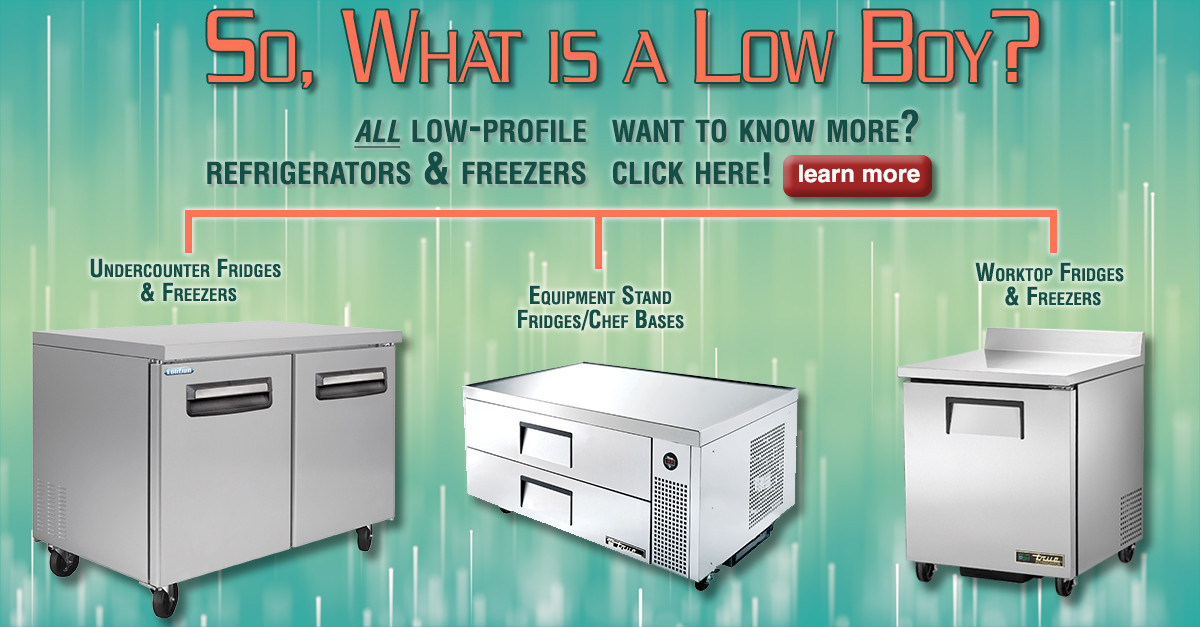 Low-profile horizontal refrigerators and freezers go by a multitude of names, some of which tend to be regional. While many parts of the country call them a refrigerated equipment stand or simply a chef base, in the Midwest we often hear them referred to as a low boy. The term "low boy" is also used to refer to any low-profile refrigerator or freezer used in a commercial setting, including undercounters and worktop refrigerators. In fact, "low boy" can actually mean any refrigerator or freezer that is horizontal and low to the ground. This includes undercounter refrigerators and freezers, worktop refrigerators and freezers, chef bases, or refrigeration equipment stands.
Further definitions of each type of low boy refrigerator or freezer
An undercounter refrigerator or freezer is a horizontal low-profile refrigerator or freezer designed to fit or slip under a counter, bar, or work area. These undercounter units stand 36" tall and come in different lengths, ranging from a 28-inch single door to a triple door 73-inch model. These units are equipped with heavy-duty, yet accessible compressors to help with air flow as these units are usually boxed in on both sides and from above by other equipment and cabinetry.
A worktop refrigerator is a horizontal low-profile refrigerator or freezer designed with a flat, smooth, stainless steel top that is equipped in the rear with a back splash. This allows you to use the space as a work surface for light food or beverage prep or light storage. A worktop refrigerator is a few inches taller than an undercounter refrigerator. At 40" tall, these are the perfect height for your prep work needs, not to mention convenient - the design of these units make it easy to store your product right below your prep space. Worktop refrigerators and freezers come in several different lengths. The shortest is the single door unit, which is 28". The double door units are 49 inch in length, and the triple door worktop refrigerators are 73 inches.
These low-profile refrigerators and freezers are built to be exceptionally strong with reinforced steel flat top surfaces. These surfaces are designed to hold another piece of heavy kitchen equipment, such as a charbroiler or griddle. With castors, these units stand a little over 25 inches in height and can be purchased in many different lengths (ranging from 36" all the way up to 110"). These refrigeration units are fitted with drawers underneath that slide in and out, rather than a hinged door. Depending on the size of each unit, it could be fitted with two, four, or six drawers. These slide-out drawer units can themselves be fitted with hotel pans for food organizational purposes. A six-drawer chef base could be fitted with 12 full size food pans. Depending on model, size, and brand, these heavy-duty refrigerators can support from 500 to 2000 lbs of equipment weight on their surface. The obvious benefit of these units is that your food is kept in easy reach of your cooking source.